Cross Country Event Timing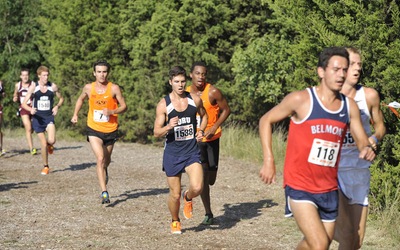 With huge crowds and fast athletes coming across the finish line, correct order placement and accurate runner timing is absolutely critical. Choose an experienced timer whom understands cross country timing needs and will keep your racers happy.
We have cross country clients ranging from collegiate regional championships to huge invitationals with athletes numbering in the several thousand. All of our clients are continued, repeat customers because we keep their lives as easy as possible on race day with the following services.
- Pre-packaged coach packets filled with the athletes' bib#s (with attached disposable timing chip), safety pins, and rosters makes race day packet pickup a breeze just give the coaches their pre-labeled packet and your done!
- A quadruple backed up finish line. All cross country meets receive a primary timing system, a backup system, a manual backup, and video backup. The way this setup is configured insures that no matter what your event size and competitive level we will catch every participant in the correct order to insure your meet is incredible accurately timed and scored.
- Disposable Chip timing - the last thing runners want to do after finishing is having to take their shoes off to return an old shoe timing chip and chasing down 1,000+ athletes can be a nightmare for volunteers. We use disposable chip timing that athletes can just leave with.
- Immediate race results - Our system allows us to quickly merge and produce race results almost instantaneously after the last runner finishes. So coaches and athletes can quickly view their team and overall results. We also have options where we can immediately deliver unofficial results through a mobile app, website, and results kiosk so parents, coaches, and others can view their athlete's times immediately as they cross the finish line.
We use Innovative Timing System's Jaguar System to time all of our events. We use ITS's because they have a superior form of technology that allows us to provide our clients with incredibly accurate times, read rates, and unique results deliverables. You can read in detail specifications about the Jaguar system we use here: Why Jaguar?
we use ITS's disposable K-Chip which is essentially a small sticker with a programmed RFID chip inside it. This chip is stuck to the inside of a participant's bib# and is so small and lightweight the majority of runners do not even realize they are wearing it! This is the perfect solution for our athletes.
This type of solution works similar to bats using echolocation. Our system is constantly sending out a signal which interacts with the chips and sends their reads back. Our system continually reads them as they draw closer to the finish line and then cuts their time off exactly when they cross through the finish arch.
All of our running race clients receive:
A Professional Grade Aluminum Truss Arch
A Disposable Timing Chip, Bib#, and Safety Pins for Each Participant
A Large LED Timing Clock
A Touch Screen Results Kiosk with a Receipt Printer (As Available)

If all of our Kiosks are booked but by clients whom booked earlier we can provide you with scrolling results on a t.v. screen

Instantaneous Printed Results
Online Registration Setup and Management (If needed)

We use itsyourrace.com to manage your online registrations. We like to use this platform because it allows us to offer you an event webpage, mobile phone race app, interactive clickable results, interactive course maps, finisher certificates, and so much more! However if you would prefer to work with another online registration company we can accommodate that as well.
Other Optional Race Timing Upgrades
We also offer other awesome timing services that can be custom added to your event like:
Multiple Timing Points - Separate Start / Finish Systems, Multiple Split Points Along the Course, etc.
Live Results Uploaded to a Webpage and Mobile Phone Race App
Multiple Results Kiosks or Multiple T.V.s with Scrolling Results
Announcer's Stations Where Announcer's Can See and Announce Participant's Names Before They Finish
Have other ideas of something unique you would like to see at your race? If you can dream it we can most likely do it! Visit our Request a Quote page and submit a quote to receive a customized quote and timing solution!